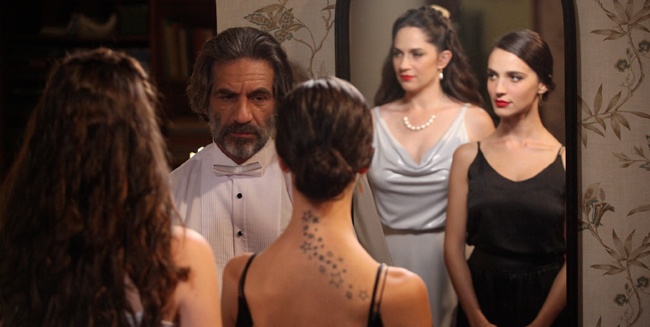 Scriptwriter/Director: Ori Sivan
Producer: Mosh Danon
Cast: Tali Sharon, Alon Moni Aboutboul, Yana Yossef, Ali Suliman, Itai Shcherback and Tamir Tavor
Direct from its premiere at this year's Jerusalem Film festival, where it won two awards, this production is based around an adaptation of the biblical story of Sarah, Hagar, Abraham, Yitzak and Ismail, from the book of Genesis. But this production is anything but biblical in its look and style: it is set inside the inner sanctum of a contemporary philharmonic orchestra in today's Jerusalem.
Sarah, the beautiful harpist is married to Abraham, a fiery, charismatic and authoritarian conductor of the orchestra. With no children their life totally revolves around music: that is until Hagar, a young horn player from East Jerusalem joins the orchestra. Sarah and Hagar form a very close friendship; so close that Hagar offers to have Sarah's child. The baby Ismail is born with a precocious musical ability but with a wild and untamed spirit.
With a dynamic musical score and peppered with orchestral performances the drama gets complicated when Ismail discovers the true identity of his mother. His journey of rediscovery leads to a dramatic and ecstatic finale inside the old city of Jerusalem.