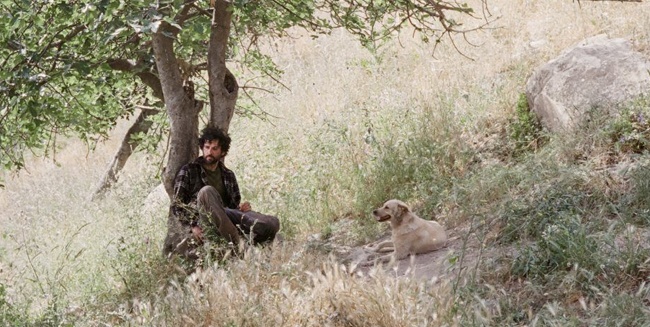 Director: Guy Meirson
Producer: Itai Tamir
Cast: Kais Nashif, Ilanit Ben Yaacov, David Ofek, Moshe Folkenflick
The action in this film is triggered by a cow ambling across a lonely stretch of road in northern Israel. This random act changes the lives of the human characters and begins a modern parable on the themes of punishment and loss. Moshe is cast out of his family home: with three chickens on his shoulder and a fake Louis Vuitton suitcase, he tramps into the rugged landscape, leaving his children and wife, Sigalit, behind.
The biblical theme of being cast into the wilderness is explored as Moshe battles nature and the elements - including a symbolic snake - to eke out an existence. His mountain lair, strewn with the bones of dead creatures, becomes too much and he is drawn back to try and make a rapprochement with Sigalit. The pair circle each other like animals, waiting for a crack in each other's emotional armour.
How life can change in an instant. Nothing will ever be the same again for Moshe and Sigalit. Everything that was hidden beneath the surface is now out in the open.
Viewer advice: not recommended for children under the age of 15 without parental guidance.