Never Turn Your Back on Sparks
2016
Documentary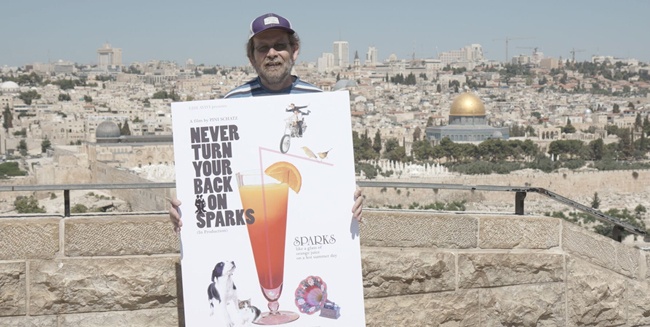 Director: Pini Schatz
Producer: Gidi Avivi for Vica Versa Films
As he turns 50 years old, filmmaker Pini Schatz, who in real life is a programmer at Tel Aviv's Cinematheque, sets out to explore his lifelong obsession with the rock band Sparks. Formed in 1971, the brothers Ron and Russell Mael were quirky songwriters, blessed with a taste for intelligent lyrics and with a seriously theatrical stage presence. They attracted a cult following. With song titles like Eaten by the Monster of Love and Angst in My Pants - what do you expect?
The doco - comedy is an autobiographical journey; Pini charts the impact of Sparks on his life while meeting with fellow Sparks' fans, including many famous musicians. On the way he sets out to prove that Sparks are the coolest underrated band in the history of popular music. He may just be right.
Apart from all that Never Turn Your Back on Sparks is a poem to non-conformity and a toe tapping celebration of some very entertaining rock and roll.
Viewer advice: recommended for all ages